Sheba
This is Sheba (so named as she is as reliable as a sheep dog), the first bike I ever owned and still do, a 1980 MZ TS150. My mate swapped it for a 6 pack of beer. It rattled like a bucket of nails and he wasn't really into it. I rode it over to my yard with no clutch, license or helmet (the seeds of rebellion?) by starting it in the right direction and stamping it into gear. Then stalling it to stop.
I proceeded to strip it down, including the engine, and replaced anything that looked worn and reassembled. Being a wooden boat builder to trade and having done no spannering previously you could have knocked me over with a feather when it started and ran ok.
I started using it when I moved to the lakes to get through the tourist traffic to the yard I was working in. I found it so much easier my car rusted to the spot and had to be sold for spares. My love of bikes had started.
I enjoyed riding her round the Cumbrian lanes, regularly snapping the foot pegs off on some of the tighter corners and S bends. I also kept creasing the frame evenly at the head stock under breaking, so after 2 replacement frames in a year I had one stiffened with 18SWG plate each side at Smidy's Custom Velocipede Emporium which made the handling a dream and has lasted for 20 plus years now.
She has, and still serves me very well, having carried my boatbuilding tools (black & white photo) and materials all over the lakes. Including a full sheet of ply (never again as windige terrible & couldn't see to right) and a 24 foot piece of timber that sanded its ends on some of the deeper dips in the road. And on one occasion 2 men, a dog, char fishing tackle (22foot rod, 15kg weight 100m down line and 10 lure lines, times 2) and cooking and eating supply's for 20 hours 1 & ½ miles down to the lake shore, the last bit on foot paths us being to lazy to carry it all down.
She's really fun to drive and still gets used as much as my other bikes though not for boat building any more.
---
During 2003 - 2004 I fitted a special spark plug first, and then a stainless exhaust from Roy at OS Stainless. A remarkable difference in power and top speed. It has carried my self and my fiancée very easily with the only problem being keeping the front wheel on the ground going up hills.
2007
Taking her for her MOT in 2006 had revealed an incredible thirst for fuel. Upon investigation (thinking the crank case seals must be leaking) I found her main bearings had a 1/16th inch (2mm) ish play in them
Having used her hard over the last 17 or so, it wasn't to surprising that she was a bit worn. Especially as I didn't have much idea of mechanics' when I put her together and probably strained a few bearings.
It was lot quicker to dismantle this time, mainly for the reason that I had the confidence to hit the impact driver hard enough with out worrying about damaging the casings which I remember had been a worry the first time.
Unfortunately other things got in the way and the engine stayed dismantled on the bench for some months. And by the time I got to it the garage was so full I couldn't work in there to rebuild it.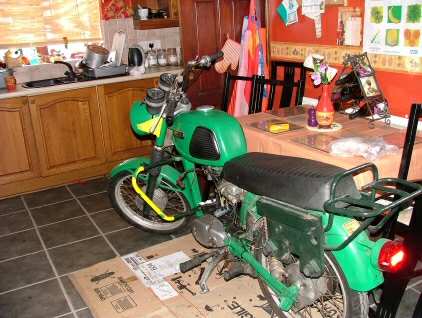 Fortunately my fiancé didn't bat an eyelid when I suggested putting the rolling frame in the kitchen to be reassembled, giving me room in the garage at my bench to put the engine together. Sabrina did however want it out of the kitchen inside a week, but this wasn't a problem as once I had elbow room every thing flew together having checked previously that everything would slide together with minimal force.

And as nearly a year had gone by, she passed her MOT first ride out.

Folow the link if you want to hear in more detail how a ES250 winter project turned into a complete strip down of Sheba.

This page updated.. 27/06/16